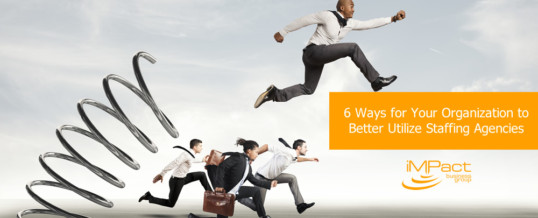 Working with a staffing agency can be a great partnership opportunity for your organization when you find an agency that understands your business and specializes in the type of positions you're trying to fill. Organizations use staffing agencies in different ways depending on their needs. Here are 6 ways you may not have considered that a staffing agency can be a great resource to you and your organization.
Benchmark against in-house candidates
If a staffing agency is offering to share a few of their top candidates with you at no cost, take the opportunity to see what they have to offer. If they are experts in their field, chances are they know how to find some of the best candidates in the field. After all, it's what their business depends on. Even if you're initially not planning on using a staffing agency, it will give you a chance to compare with your in-house candidates to help you determine if your recruiting efforts are producing the level of candidates needed in your organization.
In a time crunch
If you have a short deadline for when you need to fill a role, a staffing agency can help you bypass the time it takes to go through the process of posting a job, collecting and reviewing candidates. Often, they already have qualified candidates available who are ready to start. If you have an important project that is either underway or being held up while you try to find the right talent, you may want to consider bringing in a contract or contract-to-hire while you take your time to find a permanent candidate.
They don't know you
The best candidates are going to be drawn to top companies such as Google, Amazon or other local top companies. When trying to find a candidate, especially for harder to fill positions, candidates may not be applying to your organization. The reasons can range from not being aware of who you are, so they're not going to specifically seek you out, or they're not familiar with your organization so it will be a less desirable option to them. Even something as simple as a poorly written job description will reduce the number of quality applications you receive. When you partner with a staffing agency who's connecting with some of the best talent, you'll have a unique opportunity to have them help you sell your organization to someone who may not otherwise have known, or applied.
Bad hires
If you've had hires of your own who didn't work out the way you thought, working with a staffing agency can give you several options to help you reduce that risk. "Try before you buy" with a contractor or contract-to-hire. They will also have candidates they've already placed into contract or temp positions with a proven track record who are interested in a permanent opportunity, and you can feel confident about bringing into your organization.
It's a Partnership
A good staffing agency is more than a place you just call when you need a position filled. It's a true partnership where you have both gotten to know each other and they have been to your facility, understand your corporate culture and what a successful candidate in your organization looks like. And you have a good understanding of their recruiting process, the type of candidates they specialize in so you know what type of candidates they will be able to help you with, and which ones are not in their wheelhouse where you might want to consider a different type of staffing agency to work with.
Confidential replacement
It is self-explanatory, but a great way to search the market for talent on a confidential basis, so it doesn't disrupt your current employee structure while bringing talent to the table on a need to know basis after you want to interview them.
If your organization is looking for candidates in IT, Engineering, Accounting/Finance, follow the banner below and let us show you one or two actual candidates for you to compare with your in-house candidate results. There is no cost, unless you hire, so it is a no-risk proposition, and it may be the start of a long term successful relationship!
[cta id="938″ align="none"]
Why Outsource Recruiting?