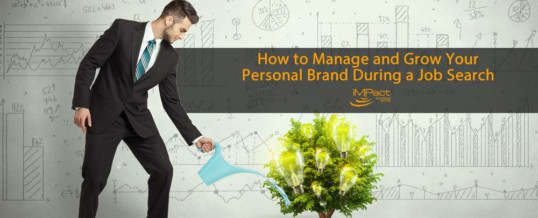 You're a brand
What will potential employers think of you when they search for you online? The way you present yourself will determine if you'll be considered for the job or not. Just like a company takes great care of how they present themselves online, on social media, in videos, at events etc, you need to do the same.  Think of all the different ways a potential employer might find information about you whether it be on sites like LinkedIn or Facebook, the resume you sent them to review, or through mutual connections you may have. Regardless of how an employer might come across your information, you'll want it to be consistent.
Images can make or break and application
When an employer is considering you for a position, they're not only considering your skill set, but also how you will represent the organization. How will you look to a potential customer or client? When applying for jobs, make sure any images you use on social media are professional and appropriate. It's perfectly fine to use a more casual picture on a site such as Facebook, and a more professional one on LinkedIn. But, change your security settings so that only friends can see more than your profile picture. We've had clients take candidates out of consideration specifically because of how they presented themselves on social media. You should never include a photo of yourself on your resume.
LinkedIn is one of your most powerful marketing tools
If an employer likes your resume, one of the first things they'll do is look you up on LinkedIn. Make sure that the information on your resume matches what you have on your LinkedIn page. It's perfectly fine to have more information on LinkedIn than on your resume, but previous employers, employment dates etc should all match up. There are also a few other very powerful features you should take advantage of:
Recommendations: Ask former co-workers to write you a recommendation. Ask them to write a few words about what it was like working with you, specific accomplishments you had in your job role etc. Having multiple different people write great things about you will look very impressive to a potential new employer.
Articles: In addition to sharing interesting content on your timeline, consider writing some content of your own. This is a great way to showcase your expertise to an employer. This is an opportunity to write in more depth than you'd be able to on your resume or cover letter, and chances are if an employer is interested in you, they will take a glance at what you wrote.
Make sure to complete your LinkedIn profile with as much information as you can. This is your best way to brand yourself and showcase additional skills and talents to a potential employer. Recruiters may also be searching for candidates with specific keywords in their profile, so make sure you've included all the ones that you'd want a potential employer or recruiter to find you by.
Market yourself with your resume
Your resume is a marketing document. Its purpose is not to land you a job, but to get you an interview. It's your first impression with a new employer and will determine if they want to contact you to discuss next steps in the interview process. Make sure that it looks professional, is easy to read (clean looking font, not cluttered etc) and understand, and contains accurate and appropriate information. If you have typos and inconsistencies on your resume, the employer will draw the conclusion that this will represent what kind of employee you'll be as well, so make sure to proof read it carefully, and ask one or two other people to do the same. When you look at it from a visual standpoint, does it look inviting to read? Or, do your eyes get tired from just looking at it before you even start reading it? Use a good amount of white space and avoid large blocks of text.
Networking
In addition to connecting with employers online in different ways, there are also opportunities to do so in person. During your job search, seek out opportunities to attend job fairs, trade shows, meetup-events and any other events that will allow you to meet directly with a recruiter or hiring manager, or with people who work for companies or departments you have an interest in applying with. Just as it is important to use appropriate images of yourself for social media to present yourself properly, it's equally important to present yourself professionally in person. Depending on the event, business casual should be appropriate in most situations unless otherwise specified.
In your job search, you'll need to think of yourself as a marketing person who's out there representing your own brand. There are many different ways to make yourself visible to potential employers, and you never know where and how an employer or recruiter will look you up or come across your information. Have a clear idea of how you want to present yourself as well as how a potential employer would want you to represent their organization if you were to work for them.
[cta id="746″ align="none"]