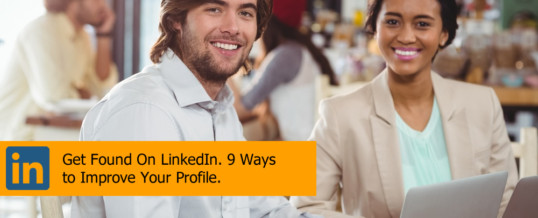 When applying for jobs, one of the most important things you can do is to keep your LinkedIn profile up to date. Recruiters, HR professionals and hiring managers WILL be looking at it, and having an outdated or incomplete profile will leave a bad impression.
We came across a situation where a candidates LinkedIn profile picture resulted in a lost job opportunity. One of our clients called and left a message, sounding quite alarmed, telling us to look at her candidate's profile picture. In his picture he was wearing a shirt with a logo, a chain, and was posed with his hand on his chin. His background made it look like he had holy lights coming from his picture. We called the client to find out what they thought so alarming and were told this candidate will be representing their company and their clients would be seeing him. His profile gave them a bad first impression even though he was well qualified for the job. It was important to them that he looked that part.
Here are 9 tips to help you improve your profile:
Keep profile basics updated
Make sure you have filled out all of the required fields and sections. The more complete it is, the better your chance of being found. They want to see where you have worked, what your skills are and what other people think of you.
Use professional photos
Your profile is much more likely to get more views if you have a profile picture. Make sure that you are using a clear, friendly, current and professional looking photo. Look at other people in your industry to see what kind of photos they have, what they are wearing in their photo to get an idea of what direction to go with your profile photo.
Write a great headline
When you're looking for a job you should not put a job title in your headline. Make sure to focus on what you have to offer, and what sets you apart from the competition. The headline should be around 120 characters max.
Cover photo
The cover photo is a good opportunity to show off your personality and branding. You can use a photo of you at work, feature your industry or occupation, a favorite quote or your interests.
Write a good summary
This is your opportunity to sell yourself to potential connections and recruiters. You should expand on what's in your headline and focus on the most relevant details about your career and experience. Let the reader know what you're about and if you're relevant to their goals. What differentiates you from others with similar skills? Think about your ideal audience and what's important to them.
Keywords
Using the right keywords can mean the difference between being found or not. Think of which keywords you want to be found for when recruiters and people use LinkedIn search. Including the right ones will expose you to more potential connections and opportunities.
Get recommendations
Having former or current co-workers, friends and other connections recommend their experience in working with you, or their knowledge of  your work can be very powerful. It's easy to request a recommendation by clicking the "Ask to be recommended" link. Select a few of your connections that you would like to recommend you, and let them know why you are looking for a recommendation, and if there's anything specific you would like for them to include. Don't forget to either return the favor, or write a recommendation first for someone you would like to receive a recommendation from. That will increase the likelihood that they will write one back.
Build your network
Don't be afraid to reach outside of your current network to make new connections. After all, LinkedIn is a networking website. Invite people who you'd like to connect with, but don't forget to write a custom note with your invitation to let them know why you would like to connect with them, and why a connection would be mutually beneficial.

iMPact recruiter Drew Kunkel shares a few insights on how to get found by recruiters on LinkedIn.
Custom LinkedIn URL
Make sure that your public profile has a custom url such as www.linkedin.com/yourname. This will look better and be easier to type in when including it on a resume. If you're not sure how to set your custom url, here's a step-by-step guide.