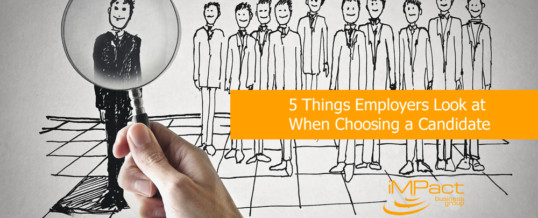 Before you find yourself in a situation where you will receive a job offer from an employer, there are many things that have to fall into place. You'd be surprised how many applicants stumble right out of the gate and immediately end up on the no pile, or, the delete folder without any further consideration. Here are 5 things that recruiters and hiring manager will be looking for when deciding whether to move your application to the next step of the process and in deciding which candidate to ultimately present an offer letter to.
Are you qualified?

The first person to look over your application may or may not be the same person who will make a final decision. When submitting your application, make sure that it's clear why you are qualified for the position. It's ok to not meet every single "requirement" listed in the job description. But at the same time, you need to make enough of a case for why your application deserves further consideration. Employers will be looking for candidates who meet the qualifications of the position, and who have demonstrated that they have an understanding of what will be required of them in the position they're applying for.

Initial interview

In many cases, you'll have an initial interview with a recruiter or hiring manager over the phone. The purpose of a phone interview is to screen out poor candidates before scheduling in potential candidates for a face-to-face interview. They usually last 20-30 minutes, and you should prepare for an initial phone interview the same way you would for a regular interview. Research the company, have questions ready, and have your resume and any other documents you submitted in front of you. What the interviewer is trying to accomplish is to:
– Fill in missing information and clarify details
– Determine if you have the right qualifications
– Find out how interested you are in the position
– Decide if they can meet your salary requirements
– Determine if you are a good fit for their company and culture (more on this below)

Successful track record

When comparing candidates, especially when getting down to the final round of candidates, a deciding factor will be how you have progressed in previous positions. Show employers if you have been consistently promoted, or other examples of your professional growth. Showing that you could be a future leader in the organization is a difference maker.

References

Having solid references can be a difference maker in the decision-making process. Employers are looking to learn more about your previous job duties and experience, strengths and weaknesses as well as a description of workplace accomplishments and sense of the applicants preferred work culture. Your references should be submitted at a point in the interview process when the employer is seriously considering you for the position. When selecting your references, choose wisely! Make sure to ask your references for permission, prepare them for the potential call, and ask them what they might say about you.

Culture fit

Perhaps the most important factor is the culture fit. You may have all of the required skills that the employer is looking for, but if the employer doesn't feel like you'll get along well with and enjoy working with the rest of your team, then that will likely cause them to move forward with another candidate. Make sure during the interview process to ask questions about the company's culture and give examples of how they fit in based on the responses to those questions.
These are some of the things you should be aware of that could set you apart from other candidates, especially if you're up against one or two other candidates in the final round of interviews. Click the image below to submit your resume to connect with one of our recruiters to be considered for available job opportunities, or search our job board for currently available positions.