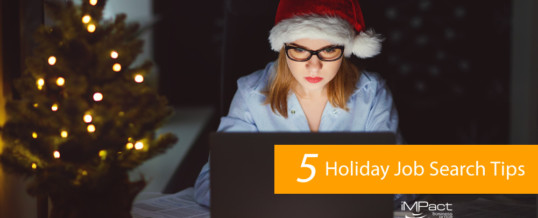 Contrary to popular belief, the end of the year can be a great time to apply for jobs. Many job seekers have the incorrect impression that employers aren't hiring during the end of year holidays, and hold off on their job seeking activities until January. This makes January a much busier month, resulting in more resumes and competition for open positions. Here are 5 tips for how to find job opportunities during the holiday season.
Networking

With all the social events at the end of the year, it's a great time to network and connect with people who can help you with your job search. Connect with acquaintances you haven't talked to in a long time and let them know you're looking for new job opportunities. But don't limit your networking to attending events. Make sure your LinkedIn profile is up to date and connect with people there as well. Also look at sites such as meetup.com to find local networking events in your field of interest.

Less Competition

While many job seekers are taking a break from job searching with a lot going on during the holidays, or thinking there's no point applying for jobs this time of year, it opens up the door to get your resume in front of a hiring managers who's seeing a reduced number of applications coming in. This is a great opportunity for you to land an interview when there's a less competitive candidate pool for employers to choose from.

Connect with Recruiters

Connect with any recruiters you know to let them know you're in the market for new opportunities, and provide them with an updated resume. If you don't have relationships with any recruiters, ask your friends to introduce you to recruiters they know who work in your industry. If they have a good relationship, ask if they can make a referral. If you know someone who's is looking for a job in IT, Accounting/Finance or Engineering, you can take advantage of our referral program, which comes with a $500 referral bonus, and refer them to one of our recruiters. Or if you're looking for a job, share your resume with us and one of our recruiters will review.

Patience

Although employers are definitely hiring; and searching for jobs during the holidays can offer up opportunities, also be aware that things may move a little slower than at other times of the year. Key decision makers will be out of the office resulting in the interviewing process taking longer than you may be used to. Don't let that discourage you from applying, and make sure you are still following up like you normally would, and if given the opportunity, inquire about the decision making timeline.

Education

If you have some down-time during the holidays, consider taking an online course, or adding an industry certification to your resume. This is especially important if it's been a long time since you finished school. It's important to show employers that in addition to your experience, your skills are also up to date and relevant. It's a great way to stand out from other candidates as you start out your job search in the new year.
If you'd like to connect with one of our recruiters for jobs in IT, Engineering, Finance/Accounting, please click the image below to share your resume, or visit our job board to view all of our currently open positions.