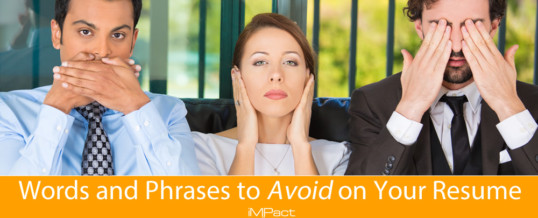 When looking at your resume, recruiters and hiring managers are trying to get an idea of what kind of experience you have, what you have accomplished in previous job roles, and if you will be a good fit for the position they are trying to fill. With this in mind, it's important on your resume to clearly describe your work history and avoid vague words and phrases that do nothing but fill up space on your resume.
According to a CareerBuilder survey, these are the Top 15 words to avoid. They are vague and doesn't really tell the employer anything about what you can do for them. Instead of saying "Think outside the box", give an actual example of how you thought outside the box and what the results were. Being a team player and hard worker is something that's expected, and not something you should have to specifically point out on a resume. However, if you lead a team for a project; describe that and what the outcome was.
Best of Breed: 38%
Go-getter: 27%
Think outside of the box: 26%
Synergy: 22%
Go-to person: 22%
Thought Leadership: 16%
Value add: 16%
Results-driven: 16%
Team player: 15%
Bottom-line: 14%
Hard worker: 13%
Strategic thinker: 12%avoid
Dynamic: 12%
Self-motivated: 12%
Detail-oriented: 11%
Instead of the words above, here are 15 words that hiring managers said they like to see on a resume. Think about what you have worked on in your previous jobs and how to use these words to describe your accomplishments. "Trained 20 employees on how to use a new process", "Negotiated new contract with vendor that saved organization 10%" and so on.
Achieved: 52%
Improved: 48%
Trained/Mentored: 47%
Managed: 44%
Created: 43%
Resolved: 40%
Volunteered: 35%
Influenced: 29%
Increased/Decreased: 28%
Ideas: 27%
Negotiated: 25%
Launched: 24%
Revenue/Profits: 23%
Under budget: 16%
Won: 13%
Other unnecessary terms include "References available by request" and "Salary negotiable". They already know that they can request references form you if they need to, and that the salary is negotiable. There's no need to waste valuable space on your resume for these kinds of phrases.
Other phrases such as "Experience working in", "Problem-solving skills" and "detail oriented" are all phrases that are vague and used by most job seekers. Instead, give specific examples that will set you apart from other job seekers. When choosing which words to use, think about what they really tell the employer about you and your fit for the role. Be descriptive about your skills, talent and achievements.