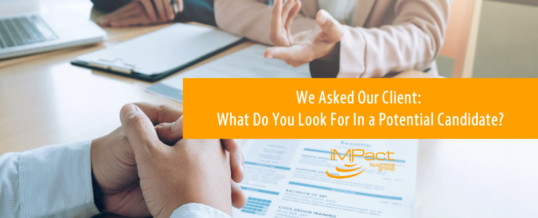 One of the most frustrating parts of the job application and interviewing process is knowing what the hiring manager or recruiter is looking for in a candidate, or what will impress them enough during an interview to want to call you back for a second interview. We asked a few of our clients to give some insight into what they are looking for in a candidate.
We asked the Human Resource Manager of one of our client companies. They're a manufacturer of environmentally friendly insulation materials in the West Michigan area. The Insulation is a superior product designed for use in walls, attics and floors of new and existing residential and commercial structures. Made from recycled paper it has superior thermal and air-infiltration properties, creates quiet and draft-free buildings, and saves on energy bills.  Our client is the longest running cellulose insulation manufacturer in the world and also a GREEN company since the late 1940's.
What do you look for in an ideal candidate?
I look for a candidate with longevity in their work history and someone who has demonstrated the ability to learn and grow on the job.  They may not have all of the experience we need, but if they have proven they are capable of being trained and learning, that is someone I would like on my team.
What's the biggest mistake you see candidates make during the application and interviewing process?
The biggest mistake I see candidates make during the interview process is to fabricate or over inflate their skills/abilities.  If you don't have experience in all of the job duties for our position, just tell me.  I would rather know that up front so we know where to focus our training, as opposed to assuming you do know and then setting that candidate up for failure down the road.
What's one thing a candidate can do to impress you, or stand out from the crowd?
Research!  Do research on the company, show me that you are genuinely interested in the history and the products we manufacture.  This should be a two way interview, I should be seeing if the candidate will fit in our position and culture but the candidate should also want to see if we align with their needs and goals.
From a candidate point of view, what's a benefit to you as an employer from having them go through a staffing agency such as iMPact Business Group?
Candidates can really benefit from working with a staffing agency like iMPact Business Group.  In a competitive job market, more companies are looking to staffing agencies to help them find candidates.  These agencies have done research on the company and job and the initial interviewing done by the agencies really speeds the process along, compared to a more traditional interview process.  I also think that candidates can be more free with their requirements and wants, without feeling like they are being demanding because they have that recruiter to relay that information to the company.
If you'd like to connect with us about job opportunities, please visit our job board to view all currently available job postings, or click the banner below to submit your resume for general consideration.