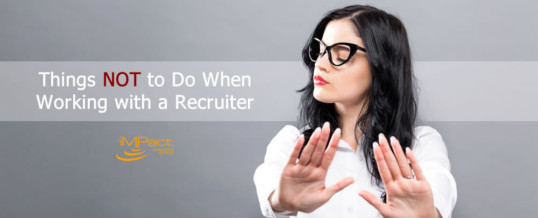 Working with a recruiter during your job search has many benefits. They can help you uncover new job opportunities and get your foot in the door with companies that you may not otherwise have been able to. To get the most our of the relationship with your recruiter, here are a few things you should avoid doing.
Not listen to your recruiter's advice
The role of a recruiter is to help match a job opening with the best possible candidate for that job role. They are in contact with the hiring team at the company, understand the culture and what kind of person will be successful. If you're working with a recruiter, listen to their advice. They will be able to give you a unique insight into, and help you successfully navigate through the hiring process. One of the most valuable reasons to work with a recruiter is that they are able to share this kind of inside information with you that's not going to be available to candidates who are applying on their own. So, make sure to take notes, ask questions, and follow the advice given to you by your recruiter. They are there to help you.
Fail to communicate about changes
If you're applying for other jobs, or if you have other changes that makes you decide to take your job search in a different direction, be sure to keep your recruiter up to date. Not returning calls or responding to emails, no-showing for meetings and interviews, or even worse, getting the job but not showing up on the first day of work will all make you as well as your recruiter look bad. They are here to help you, so by blowing them and the employer off, you've ensured that neither party are going to want to work with you again. A simple email or phone call to let your recruiter know that you've decided to go a different route, or that some sort of change has occurred will go a long way.
Withhold information
In order for your recruiter to be able to help you, be sure to share all relevant information when asked. If there are things you feel might become hurdles in your job search, talk to your recruiter about them up front. It is always better to be able to strategize about how to overcome any issues early as opposed to have them come up as a surprise at a later point in time when it is too late. Leaving critical information out in the early stages of the process will bring into question your honesty and come back to hurt you should they come up at later on.
The key things for building a strong relationship with a recruiter, which could lead to many future opportunities, is to maintain good communication. Allow the recruiter to do their job and be in control of the process. Find out how they like to do things and when/how you should communicate with them, as well as with the client when you get to the interview and follow-up stage.
Here at iMPact, our experience recruiters, located in our Grand Rapids, MI and Tampa, FL offices are ready to help candidates looking for opportunities in IT, Finance/Accounting, Engineering and Business Administration. Please visit our job board for all open opportunities or click the banner below to submit your resume for general consideration.