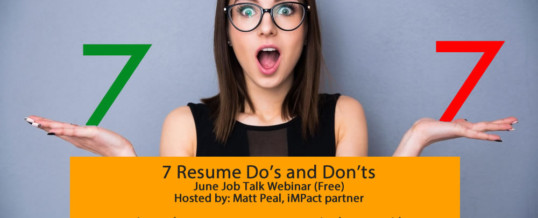 Date: Thursday, June 7th
Time: 1:00 – 1:30pm
Presenter: Matt Peal, Partner, iMPact Business Group
6 seconds – that's the average time a hiring manager or recruiter will review your resume before deciding whether to give it further consideration, or place it in the no-pile. In our June Job Talk webinar, iMPact Partner Matt Peal will share insights on the top resume do's and don'ts. Learn about the most common mistakes you should avoid on your resume and the best practices that will help ...
Continue Reading →