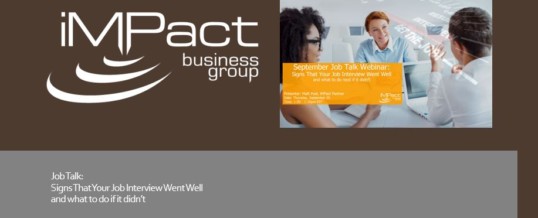 September Job Talk Webinar Recording
In our September Job Talk, iMPact Partner, Matt Peal, shares insights on how to tell if your job interview went well, and what to do if things aren't going as planned. Topics covered include:
Interview going longer than planned
Interviewer told YOU what you'd be doing in your new role
The interviewer introduced you to your potential colleagues or other decision makers
You were invited to a second interview
You're asked about other job prospects
Asked for references on the first interview
The interviewer is selling you on the position and the company
The interviewer gave your recruiter good feedback
Company culture
The interviewer invites you to follow up with questions
Salary was brought up
The interviewer makes next steps clear
What To Do If The Interview Isn't Going Your Way?
Interview follow-up
If you'd like to connect with one of our recruiters to discuss job opportunities in Information Technology, Engineering, Accounting/Finance or business administration, please click the banner below to submit your resume for consideration, or visit our job board to apply for one of our open opportunities.