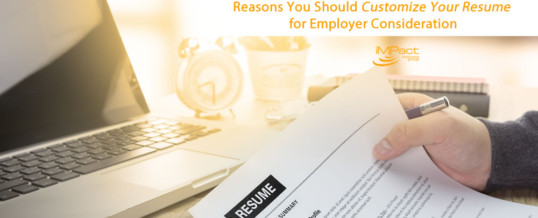 Many job sites now allow users to "quick apply". Just click a button and your resume is in the hands of a recruiter or hiring manager. Unfortunately, it's probably just moments away from being greeted with the click of a delete button. However, by taking a few extra minutes to customize your resume, you can place yourself ahead of most other applicants.
Is your resume relevant to the position?

Carefully read through the job description, and ask yourself if your background and experience is relevant to the position at hand. Will the employer look at it and believe what you're bringing to the table will align with the job duties that need to be performed? If not, don't waste your time applying. Although no employer expects to find a candidate who meets every single item on their wish list, you should be able to adequately explain why you are a good fit. Avoid using the phrase "wiling to learn". This automatically raises a red flag and gives the employer the impression that you are not qualified for the job.

Research the company

Before applying, do your research. Visit the company website and social media pages and gain an understanding of who they are and what they do. If you get called in for an interview, you'll want to do some additional extensive research, but for now, just get a general idea of what the company is about. Try to correlate your skills and experience to your knowledge of the company on your resume and in your cover letter.

Read the job description

Don't just briefly glance through it but give it a thorough read. Are there any key words that are mentioned, or any specific skills or other areas of interest that are pointed out as of being of special importance? When describing your own skills on your resume, include any specific words or language from the job description.

Exclude the fluff

Be targeted and specific with what you include on your resume. If you're applying for an accounting job, including your previous experience as a beekeeper, is not going to be relevant. It will make your resume look cluttered and confusing. If you're applying for the Controller position at a company that makes canoes, and you spent a summer working in a canoe rental shop, include that. On average your resume will be looked at for about 6 seconds, so make sure it's easy to find the important information, and that everything on your resume is relevant to the job you are applying for.
By making the employer feel like you've taken the time to understand the position you're applying for and positioning yourself as a great fit for the opportunity, you will send the message that you are genuinely interested.  This will allow your resume to stand out amongst the competition and improve your chances of securing an interview.