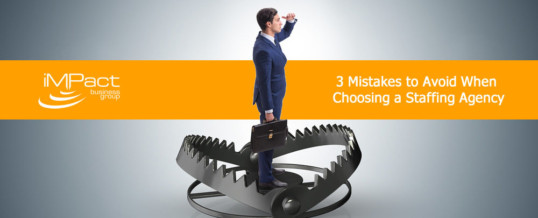 Working with a good staffing agency can have many benefits and provide great value to your organization. But be sure to choose wisely as working with a staffing agency that hasn't taken the time to get to know your business and is not in tune with your needs can be both time consuming and costly. Here are 3 mistakes to avoid when researching and choosing an agency that will best meet your needs.
Not knowing your business
It is crucial to work with a staffing agency that knows your business. Are they taking the time to come out to your company to see your facilities, learn about the products and services you provide, your company culture and other
important aspects of your business? A staffing agency that knows your business will be in a better position to match you with a candidate that's going to be more likely to be successful.
Being promised employees for lower than average salary.
Having a staffing agency promise to get you great talent for a lower than market salary might sound like a great proposition. But as the saying goes, you get what you pay for. Even if you're able to land a candidate at a great deal, chances are they will jump ship for the next opportunity that will pay better. A good staffing agency will help you not only match your open opportunity with the right candidate, but also be on top of what a competitive salary should be and filter out applicants who might be at risk of being job hoppers.
[cta id="938″ align="none"]
Be proactive
Although you may not continuously have hiring needs, it will still serve your organization well to maintain a relationship with a staffing agency. It can be hard to predict when there is an immediate need for additional work to service your customers. Having a relationship with a staffing agency beforehand means qualified candidates are just a phone call away when you find yourself in a bind and don't have time to take on the time-consuming task of additional hiring on your own. If you wait until the last minute, you're not giving yourself enough time to research, compare and analyze. Another benefit of working with a staffing agency that knows you well is they're always looking for great new candidates. In their everyday search they may come across a perfect candidate for your  organization, whether you're currently hiring or not.
Download our "How to Choose the Right Staffing Agency" PDF for more detailed advice on what you need to know and questions to ask
[cta id="2735″ align="none"]