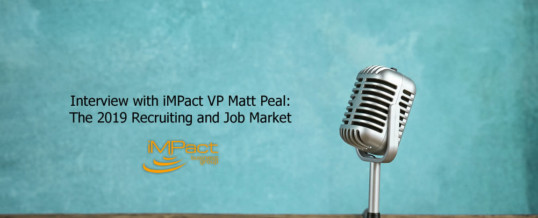 What makes someone a good candidate for one of iMPact's job opportunities, and what's the best way for a candidate to engage with a recruiter?


Our clients ultimately decide what is a good candidate for their opportunity. Generally speaking, our clients are looking for someone with a good employment track record who brings both technical and functional skills to the position. Obviously, each client would love prospective candidates to have industry knowledge as well. Ultimately, when a candidate meets with a recruiter to engage a search, it's imperative for us to understand what is truly important to that candidate and what that ideal role looks like to them. That recruiter will then align them with similar cultural, technical and growth objectives that our clients are looking for.
Candidates that are looking to engage with one of our recruiters can access them in many ways: direct email, information request via the website, social media,job posting or simply by calling our main number at: 616-254-8586.
What do you see as the biggest change in the job market between 2018 and 2019 that candidates should be aware of?


It is still a candidate's market! The number of opportunities (demand) far outweighs the candidates (supply). This imbalance will continue to make it vital for potential candidates to truly understand what that ideal role, culture and company target is. Our recruiters work tirelessly from the candidates' perspective in mind. They define what that ideal job opportunity is that they want to return to. Our team functions as the eyes and ears to the job market for the ideal role as that potential candidate has defined for us. Truly understanding what that role is and finding it will continue to be the challenge in 2019. Partnering with a recruiter that understands your desires, long term and short-term goals and the geographic market you are targeting enhances your chances of finding that ideal role in 2019.
What is iMPact's process for ensuring that the right candidate is matched up with the right opportunity?
Our recruiters ask detailed questions to better understand what a candidate is looking for in a new opportunity as well as what may not have worked well for that candidate in the past. Our Account Managers work closely with the hiring managers to understand what type of person fits well into their culture. By partnering together and sharing that information we are able to create more successful matches for both candidates and clients.
What differentiates iMPact from other staffing agencies?
Our internal Recruiters and Account Managers mainly come from the industries they serve and have real world experience working within those disciplines. That knowledge allows us to better understand our candidates and help them find the right opportunity.
What do you personally find most rewarding about being in the staffing industry?

We have ability to help multiple people every day! We work with candidates who are truly trying to find a better opportunity in the workplace as they define it. It is extremely rewarding when we accomplish this on their behalf. Similarly, we have a client who also have high expectations in their search for the ideal candidate. The ability to help both parties on a daily basis is the most rewarding aspect of being a Recruiter.
To connect with an iMPact recruiter in our Grand Rapids, MI or Tampa, FL locations for opportunities in Information Technology,Engineering, Accounting/Finance or Business Administration/Process, please view our job board. You can also submit your resume for general consideration here.