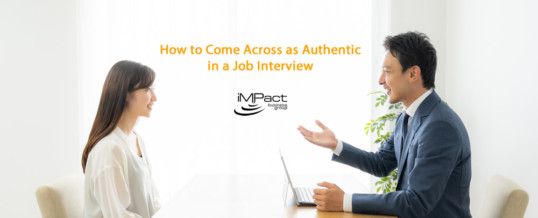 One of the most important outcomes of a job interview is for both you and the employer to evaluate each other to make sure you're both a good fit for each other culture and personality-wise. Showing the interviewer that you are genuinely interested in the position will go a long way toward landing the job. A few questions the employer is trying to answer are:
What are you like to work with?
Are you sincerely excited about the opportunity?
Do you have the necessary skills needed to do the job?
"Authenticity is about being true to who you are."
– Michael Jordan
Be prepared, but don't sound rehearsed
You most definitely should prepare yourself before an interview. Practice interview questions with a friend, learn as much as you can about the company, know how you want to present yourself and your work history. But you don't want to come off as having rehearsed every single answer down to the last detail. This will sound robotic and will not come off as sincere. Although practice makes perfect, try to avoid "perfect" and go for letting your personality shine through.
Be honest, but not too self-deprecating or harsh
It's great to show some vulnerability and be honest about your skills and weaknesses. But just like you don't want to talk about yourself all in glowing words or making yourself look perfect and polished in every possible way as this will come across as disingenuous, you also don't want to sell yourself short or downplay what you've accomplished in previous positions. After all, your goal is to show that you have the skills they're looking for and will be able to get the job done. A question likely to come up in some form is "what's one of your weaknesses?"  Respond with a true weakness and how you overcame it, as opposed to trying to pass off a strength as a weakness which will immediately turn off any interviewer.
When talking about previous achievements, don't overstate or embellish what you achieved in previous job roles or the scope of your results. Interviewers will see through this.
Don't be afraid to talk about yourself
Let the interviewer in on who you are as a person. Sure, they're going to want to make sure you have the right skills for the job, but they'll also want to know who you are as a person. What are your hobbies, passions and interests outside of work? Maybe you have other non-work-related skills that you excel at. Give them a more 3-dimensional view of yourself. If you're asked "tell me more about yourself", this is an opportunity to talk more about yourself as a person.
Why are you here?
As you're preparing for your interview, ask yourself why you're in the interview? What is it about the company and job that made you want to apply? Don't be afraid to be precise and express your feelings a bit and share any personal reasons that relate to your interest in the position.
Being authentic in the interview means behaving as closely as possible to how you'd behave on the job. Interviewers are good at spotting interviewees who are trying to act a certain way to come across the way they think the interviewer wants them to be or tell them what they want to hear.
When working with one of our recruiters, they will help you with interview preparation. View our job board for all currently available opportunities in Information Technology, Engineering, Accounting/Finance and Business Administration and create custom searches to receive a notification when a job of interest becomes available, or click the banner below to submit your resume for general consideration.
[cta id="746″ align="none"]