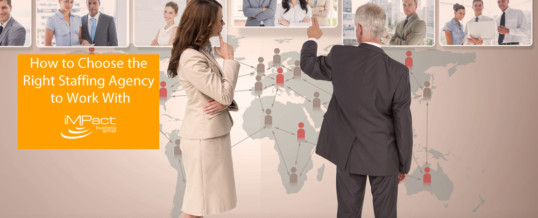 If you have identified the need to outsource recruitment because you're having trouble finding the right people, or turnover is high, and you've now made the decision to find a staffing agency. So, how do you go about choosing the right company to work with? There are three basic things you should consider when making your decision:
1. Level of Quality
The first thing you need to look for is some indication of the level of quality. Not only in regards to the candidates they will present to you, but you'll also want to inquire about their retention rate. Are companies coming back to use their services again for additional positions? It's also a good idea to ask for a corporate reference from a current client.
2. What's the Price Tag?
How much will it cost to work with the agency you're considering? You'll get what you pay for, so make sure you identify a company that will provide you with a cost efficient business solution. If you're approached by a staffing agency and their recruitment fees are very low compared to the competition, there's usually a reason for that. This is a red flag, and may not provide you with the quality you need. Compare different agencies, and meet with them in person to get a better understanding of the services they will provide and what's included in their fees.
3. Level of Ease to Work With
Avoid agencies that will make you jump through hoops to work with them. For example, are they doing a good job taking a job order, or do they keep coming back for more questions? If you are hiring for various different job types, it's great to find a staffing agency that can service multiple business units. It will simplify the process and you know you're always working with someone you can trust to bring good candidates to your company.
Here at iMPact, we're easy to work with, and we cross into multiple business units. We'd love the opportunity to talk to about any positions you're looking to fill, and provide you with a few candidates so you can compare with your in-house candidates. No cost, no risk. Please click the image below and fill out the contact form, or you can call one of our offices.