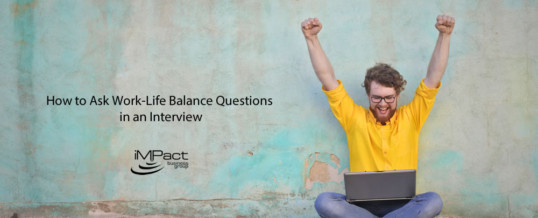 In a monster.com poll, over 80% of employees indicated that they are unhappy with their work-life balance. In an interview, just like candidates try to portray themselves in the best possible light, companies will do the same and paint the position in a good light; not always pointing out any negatives that might come with the job. One of the most important things candidates try to learn about is work-life balance, which can mean very different things to different people. However, asking about it can also raise a red flag to an employer. It's important to ask about but keep your questions broad and general early in the interview process and save more specific questions that pertain more directly to you for the follow-up interview or later on in the interview process.
Before going into the job interview, think about what work-life balance means to you. Does it mean being able to leave by a certain time every day because you need to pick up your kids, being able to take time off if you work overtime, no weekends, a certain amount of vacation days, flexibility to work from home or something else? Once you have a good idea of what you're looking for from your employer, you'll know what kind of questions to ask.
Avoid using the term work-life balance. It has a negative connotation and save questions about time off, schedule flexibility etc. until later in the interview. The order of questions you ask will give the interviewer an idea of your own personal priorities. Start by asking broader questions about the corporate culture and the job role and responsibilities. Browse their social media for ideas about things such as company events or other employee related postings to ask about; and how they relate to their culture. Not only will this show that you've done your homework but will also give you an opportunity to have a more in-depth conversation about the company culture.
Five good questions to ask are:
–         What does a typical work day in this position look like?
Ask the interviewer to walk you through what a typical work day in your new job role looks like and what to expect.


       What's the company policy on telecommuting?
Being able to work from home offers a lot of flexibility, and shows the company is focused on the best end goal. If they are flexible in this area, it's a good sign they're flexible in other areas as well.


       What does your company do to help employees with work-life balance?
This will give you a better idea of different benefits offered by the company such as paid days off, health benefits and other benefits that are included to ensure work-life balance.


          How would you describe the culture?
Is it more laid back and easy-going, or busy and chaotic? One of the most important things you want to walk away with after an interview is an understanding of the company culture and if it's a good fit for your personality and the kind of work environment you'd like to come to every day.


       How does the company measure goals, timelines and success?
If hours worked and other time related KPI's are used to track and measure productivity and success, likely there will be less room for flexibility. Companies that are focused on achieving goals, and not how long it takes to achieve the goal are more likely to be open to a more flexible work environment.
At iMPact Business Group, our recruiters and account managers have in depth conversations, and visit all our clients to gain a solid understanding of the company culture to understand what type of employee will be successful in each organization. During the initial conversation with candidates, they will be able to help you with any questions about work-life balance and company culture to make sure you are only presented with potential opportunities that will be a good match.
Find out more about available opportunities by visiting our job board or click the banner below to submit your resume for consideration. You can also sign up for our monthly newsletter to receive updated about recently added job opportunities.
[cta id="746″ align="none"]