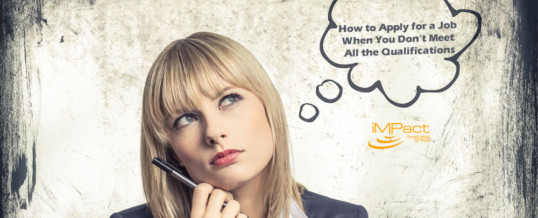 One of the biggest mistakes job seekers make is shooting off resumes for jobs they are not qualified for. On the other side of the spectrum, another major mistake job seekers make is NOT applying for jobs because they don't perceive themselves to be qualified enough. There's no such thing as a perfect candidate that will meet every single criteria set forth in the job description. Most job descriptions are written by hiring managers and HR personnel who have actually not performed the job themselves. So, when looking at a job description, don't feel discouraged if you don't check off on every single requirement that's listed. Here are a few things to keep in mind when reading a job description, you don't feel completely qualified for, but you think you'd still be a good match for.
Culture Fit
A good hiring manager will usually be more concerned with finding an employee who will fit in with the organizational culture and with the team they'll be working with, rather than finding a candidate who has every single skill they outlined in the job description. The cultural and personality fit is in many cases more important than whether the candidate checks off every single job requirement the employer has on their wish list. Managers aren't always good at determining if a candidate is really a good fit for the organization. It's one of the main challenges for hiring managers. So, this gives you an advantage to show them why you would be a good fit for the company you're applying with. Talk to people who work for the company if possible, and research online to find out the organizational culture and what kind of employee is successful there. Once you have a good idea of the company culture is like; convey in your application how you'll be a great fit. Or you may find that your personality will not be a great fit, in which case you won't need to waste more of your time on an application.
Experience
If a company is asking for 5 years' experience, and you're just out of college with minimal relevant work experience, you'll probably be wasting your time applying. However if they're asking for 5 but you have 3 years' experience, don't let that discourage you. What employers are really looking for is knowing that you can do the job and that minimal training will be required. So, if you show that you will be able to do the job and that you're a good fit personality-wise you might still be in the running. Be prepared to demonstrate in an interview that you can do the job.
Don't just talk the talk, walk the walk!
Don't just tell your prospective you'll be great, show them!
With your application, include samples of your previous work or go a step further and create something for the company you're interviewing with that they could use right away. Or include a document outlining what you think the main challenges with the position will be and how you would address them. You can also include ideas that you'd bring with you to help grow the business or address challenges the business might be facing. Get them curious enough that they will want to hear more of your ideas.
If you get to an interview, ask if they could present you with a scenario you might encounter in your role, such as a customer or client interaction so you can demonstrate how you would respond. But be careful, and make sure you're confident in your ability and that you've done your homework before you put yourself in this situation. However, executing this successfully will demonstrate your ability to perform the job.
Networking
We've written other posts about networking, but it bears repeating. The best way to find out about hidden job opportunities or push your application to the top of the list and in front of a hiring manager is through networking. Talk to people who work for the company you're applying with, attend networking events and connect on LinkedIn. Coupling that with referrals from other business professionals, co-workers and former managers will go a long way to help your resume stand out and make a potential employer want to interview you even if you don't have every single skill and requirement they may be looking for in a candidate.
Ultimately, it comes down to showing the employer that you are the right fit and have the ability to do the job. Think about what the employer is trying to accomplish and how your background and experience will play into their long-term goals. You may not meet every single item on their wish list, but the vast majority of the other candidates who are applying for the job won't either. Showing sincere enthusiasm for the position and how your previous experience fits will go a long way toward landing you that amazing job you have your eyes on. Also show the employer your willingness and ability to quickly learn new skills. Maybe you've worked with Windows server but minimal experience with SQL Server that the employer is looking for as one of their requirements, that's something many employers will be willing to provide training for the right candidate.
If you'd like to connect with one of our recruiters, please visit our job board to find all of our available opportunities in IT, Engineering, Accounting/Finance as well as other business administration related positions. Or, click the banner below to submit your resume for general consideration.
[cta id="746″ align="none"]