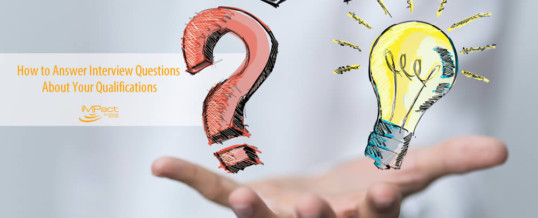 Once you've been called in for an interview, the employer has already determined that you have the skills and qualifications to perform the job. At this point they're trying to get to know each candidate better to narrow the field and determine who will be the best fit for the position and organization. When questions come up about your qualifications, be ready with responses to demonstrate why you will be a good fit.
The interviewer may ask you directly what makes you qualified for the job. Take this question as an opportunity to tell the interviewer something about yourself that's not on your resume. Think through what you can tell the employer about what sets you apart from other applicants.
Here are a few other tips for how to address any interview questions related to your qualifications.
Prepare
Before the interview, make sure to prepare by reading through the job description thoroughly. Read up as much as you can about the company. Talk to people who work or have worked there. Find out about what it's like to work there, what the culture is like, what type of employees are successful.  Of course, also learn everything you can about the products or services they sell.
Missing qualifications
Think of qualifications the job ad is asking for that you currently don't have but anticipate being asked about. How do you turn them into a positive? Do you have experience in similar areas that are transferable? For example, if the employer is looking for a candidate who has experience with a certain software and you've used a different but similar software package, talk about that transferable skill.
Think business problem
The interview isn't ultimately about you. It's about how you can help the company solve their business problems and needs. From preparing for the interview, and learning about the company, think about how your qualifications can help solve any business problems the company might be facing. If you're interviewing for a sales role, what previous experience or skills do you have that make you a uniquely good match for this particular position? Perhaps you have previous experience with the product the company makes, or you have a solid network of current or potential new customers that would be valuable to the business.
Listen
A common mistake made in interviews is talking too much. Slow yourself down. Make sure you're listening to the interviewer and their questions. If the interviewer is honing in with questions about a specific part of either your background or area of the job you're interviewing for, this is a sign that they're wanting more information to make sure your qualifications in that area match what they are looking for. Your goal is to have a conversation and connect with the interviewer. Take notes if you need to. This will demonstrate that you're engaged and show that you're interested.
Showcase your qualifications
There are many ways you can demonstrate your qualifications, in addition to just describing them. For creative jobs such as web and graphic design it's pretty much a given that you'll be asked to show a portfolio with your work. There are many other ways you can show off your qualifications as well. If you're applying for a job that heavily uses Excel, bring a spreadsheet you've created that demonstrates your skills and explain how it might be used to save time and resources. If you're applying for a management job, bring a plan outlining to the interviewer what you'd like to accomplish the first few months on the job to demonstrate your capabilities.
Visit our job board or click the banner below to submit your resume to connect with one of our recruiters for opportunities in Information Technology, Engineering, Accounting/Finance and other business administration roles.
[cta id="746″ align="none"]