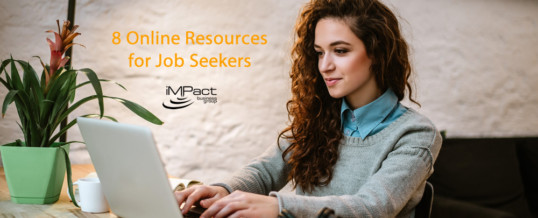 There's a plethora of different online resources for job seekers. Here are a few to help you get started with your job search. If you have any other ones you have found useful, please share them in the comments section.
LinkedIn
We've written a lot of different blog posts about LinkedIn and this is the most important site for job seekers to participate on. It's both a place to search for jobs and be found as well as network with potential employers. One of the first things a recruiter or hiring manager will do is visit your LinkedIn page, so not having one can be a detriment to getting a call back for a job interview. A few best practices for LinkedIn are:

Have a completed profile. Consider it an extension of your resume where you can provide more information about your background than on your resume. Don't leave any sections blank.
Match your resume. The companies you've worked for, job titles and employment dates should all match. Inconsistencies here will leave a bad impression.
Ask current and former co-workers to leave a professional reference for you.

Facebook
While most people are using Facebook to interact with friends, there's also opportunities to use Facebook for job seeking. On Facebook's job board you can search for various job opportunities and apply directly from your profile. If there is a certain company you're targeting or going on an interview with, be sure to visit their Facebook page to learn more about them. See if they've posted anything of interest that you can reference in your interview. There are also many different groups that post job opportunities. Search for local job groups, or interest groups in your field where you can network with others.
Glassdoor
Just like many other sites, you can search for many job opportunities on Glassdoor. In addition to that, Glassdoor is a great place for finding reviews of people who currently work for or have worked for a company you might be interested in seeking employment with. Along with the reviews you can also find salary information for different positions within a particular company or region.
Meetup
On Meetup you will be able to find locally organized events such as different usergroups and interest groups getting together. When searching for jobs, networking and getting to know people in your field can open new doors and opportunities that wouldn't have been available otherwise.
iMPact Business Group
Right here on our blog we have numerous posts related to resume writing, interviewing and job search tips. On our job board you can find all our currently available job opportunities. New ones are added daily. Create and save a custom search to receive an automatic notification when a matching job has been added. On our talent showcase you can submit your profile for free to get discovered by employers who visit our website and included in our monthly newsletter to hiring managers looking for candidates.
Salary.com
Before going into a salary negotiation, take some time to research what companies in your area are paying for the same or similar job roles. They'll give you an idea of what a competitive salary looks like based on experience and job responsibilities. This will help when negotiating your salary during the final stages of the interview process. You can also find salary information on other sites such as Glassdoor and O*NET Online.
O*NET Online
If you find yourself wanting to change careers, or research different career opportunities, O*NET has a wealth of information to explore regarding which careers have a bright outlook, what skills and education requirements are needed for different job roles as well as salary information. If you're having trouble describing previous job responsibilities, look up your job role on O*NET and see how they've described similar job duties.
Job Boards
There are an endless number of job boards online. A few of the biggest and most popular ones in addition to a few mentioned above, include com, Monster.com, Ladders.com, Indeed.com. In addition to these big ones, also seek out job postings directly on company websites as well smaller more industry specific job boards where you might be able to find different job opportunities that are not posted elsewhere.
The number of resources online can be overwhelming. If you'd like to engage with one of our recruiters to get help with the application and interview process, please view our job board for all available positions. You can also click the banner below to submit your resume for general consideration. We have opportunities in Information Technology, Accounting/Finance, Engineering and Business Administration/Process. If your resume is a match for one of our opportunities, one of our recruiters will connect with you to discuss next steps.
[cta id="746″ align="none"]