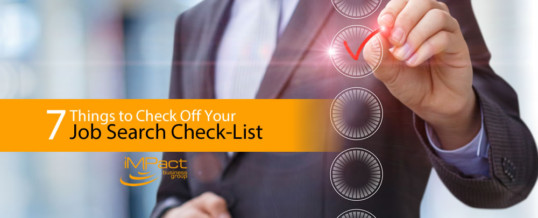 The process of finding a brand new job can be quite time consuming and frustrating. To make sure you don't miss any important steps in the process, here are 7 things you should make sure are checked off your list to do:
Make sure your resume is up to date
Your resume is your first impression with a hiring manager. Make sure it is up to date, and reflects your job history and experience. Before submitting your resume, make sure that you have read through the job description carefully, and make adjustments to tailor it to the job you are applying for. Your resume is not designed to get you the job; but rather to get you an interview.
Do you need a cover letter?
While the resume is designed to give an overview of your background; a cover letter will give you an opportunity to dive into a little more depth about a few of your specific achievements and accomplishments and how they more directly make you a good fit to the position you're applying for. Use the cover letter to let the employer get to know you a little better and show off your personality a little bit more, while keeping it to no more than one page.
Update your LinkedIn other social media profiles
You can be fairly certain that most, if not all employers will check out your LinkedIn profile before deciding whether to contact you for an interview. Just like your resume, make sure your LinkedIn profile is up to date, and reflects the same information as your resume. If there are major discrepancies between the two, it may raise a red flag.
Don't Let These Social Media Mistakes Derail Your Job Search
Research jobs
Before submitting your resume, and especially before going into an interview, make sure you have spent some time researching the company you are applying to. In an interview, you're expected to at least have a good understanding of the organization, what they do, the company culture, and how you fit into it. Spend some time on the company website, YouTube page and other social media pages.
Pre-Interview Company Research
Prepare for your interview
Whether you have an interview lined up or not, it's always a good idea to practice your interviewing skills. Have a friend or family member act as the interviewer so you can practice what you will say in an interview setting. Some employers will call you back and do a short interview right on the spot over the phone, so make sure you're ready.
4 Things You Should Do When Preparing for an Interview
Interview thank you note
So you finished your interview. Now what? One important step that many skip is sending a quick thank you note to the hiring manager. Make sure you get everyone's name and business card during the interview. Within 24 hours, send a quick thank you note either via mail or email, depending on how quickly they're looking to make a final decision. A thank you note is a great opportunity to summarize some of the key points from the interview, and even add any piece of relevant information you may have forgot to mention during the interview. Just be sure to keep it brief.
4 Ways to Follow Up After a Job Interview
Formulate salary and other requirements
Before you start interviewing, you'll want to have a good idea of your salary requirements. What's the lowest amount you're willing to accept, and what are some other items you're willing to negotiate? Aside from salary, think about things such as work hours, vacation days or anything else where you can be flexible and where you cannot.
7 Salary Negotiation Mistakes to Avoid
Being prepared every step of the way during the job application and hiring process will help you be more successful and not be caught off guard.   When working with a recruiter from iMPact Business Group, we'll help you be on top of everything you need to successfully go through the process. Click the image below to submit your resume for one of our recruiters to review and contact you with any matching opportunities.