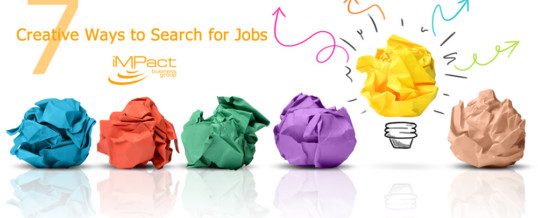 There are many convenient ways to search for jobs such as Ziprecruiter, Monster etc. Although the vast majority of jobs can be found on the most popular job boards, the problem is that everyone else is searching them, and applying for the same jobs as well. Here are 7 few ways you can "search outside the box" and find different job opportunities you may not have found otherwise.
Twitter
Many companies, and especially staffing agencies will share their job postings on twitter. As a job seeker, you should consider Twitter to be a job board and you'll find jobs that posted there exclusively as well as before they're posted on other job boards. Search for both keywords and hashtags related to the type of jobs you're interested in.
Interest groups
There are many industry and interest groups (Information Technology, Project Management etc) out there. Some of them will help companies share information about available jobs to their members. You may even find some people at their events who have a hiring influence and who could help you get your foot in the door. Use sites like Meetup or search Google, to find out what's available in your area. Check some of them out to determine if they are good networking opportunities or if jobs are either posted on their websites and social sites or if they are brought up in meetings.
Resume on job boards
Even if you are using Monster, Indeed or other job boards, make sure that you keep your resume up to date and upload a new version from time to time. When hiring managers and recruiters search the job boards, they may set as a parameter to only see resumes that were posted within the last 3 or 6 months. For lower level jobs where they have more potential candidates available, that time frame might be even shorter. So make sure your resume is up to date and recently updated so you don't miss the opportunity to get found.
Hidden job opportunities
Not all jobs are posted on job boards and career pages. Some jobs are filled internally or otherwise before anything is ever posted publicly. Sometimes, companies conduct confidential searches because they are looking to replace a current employee. So even if they are working with for example a staffing agency to do that, those kinds of job postings might not even be made public. In some cases, companies might be considering creating a new job role or adding additional employees and may be in the process of getting it approved.With that said, although they're a little harder to come by, there are many different types of "hidden" opportunities out there. To find them, make sure to let all of your friends and connections in your network on sites such as LinkedIn and Facebook know that you are looking and what you're looking for. Some of them may have the inside scoop on something that could be of interest. If there's a company you'd really like to work for but don't see any openings, try to network with people in that company to find out about opportunities or who to connect with. Do your homework and then send your resume and cover letter and explain why you'd be a great fit for their organization and how your skills would be a great asset to them. Find ways to network with people who work in the company, whether it be on LinkedIn or find out if there are events open to the public that they may be sponsoring and attending. This is more of a long shot and takes a bit of work, but companies have been known to bring on employees who made a case for themselves that was too good for the company to pass up.
Connect with a recruiter
If you're trying to get into a specific company or industry, try to connect with a recruiter who fills those types of positions. Or alternatively, look on their website at the jobs they're trying to fill and if you know someone who would be a great fit, reach out with a referral. Recruiters are always searching for qualified candidates. From that point, even if they're not seeking candidates for the types of jobs or career fields you're currently looking for, they may still be able to refer you to hiring managers in companies that do. Try to connect via LinkedIn, phone or email. When sending a LinkedIn connection request, make sure to explain specifically why you'd like to connect.
Skip HR
If you've found a specific company you'd like to work for or a specific job opportunity of interest, try to connect directly with someone in the department (Accounting, Engineering etc) you're interested in working for. Network with friends, family, LinkedIn and so on to find out if someone can help you make a connection into that company or department. From there, find out who the best person is to connect with. Once you've made a meaningful connection with someone you'd be working for or with, you now have an internal referral to help you get ahead in the application process.
Call to confirm: Are they still interviewing?
If a job posting has been open for a few weeks, call an internal recruiter or hiring manager in the company and simply let them know your background aligns well with the position and let them know you're reaching out to confirm that they're still actively interviewing for the position. This will give you a few different advantages. You've now made a soft connection with someone in the organization, they may even take a minute or two to talk with you about the position giving you an opportunity to make a more personal pitch, and they may ask you to email your resume to them directly. This rarely used tactic will give you a leg up on other candidates.
If you'd like to connect with one of our recruiters about opportunities in Information Technology, Finance/Accounting, Engineering or other business administration related positions, please visit our job board or click the banner below to submit your resume for general consideration.