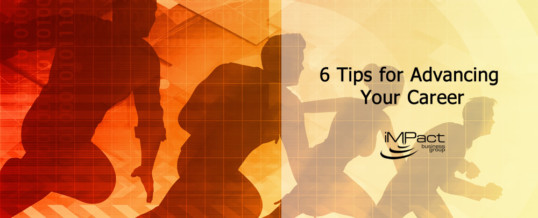 Are you looking for ways to advance your career? Whether you're looking for ways to position yourself for an upward career movement, or an advancement into a new job field or job role, there are a few things you can do to position yourself for the next stage of your career.
1. Plan ahead
Regardless of if you're looking to make an immediate move, or planning a future career move in the next 6-12 months, sit down and create a road map. Write down where you are now and where you'd like to be. What marketable skills do you currently have and what skills are needed for your next job? Is there a lot of competition or are you uniquely positioned to easily land your next job? Research job postings for the type of jobs you'd like to do. Through this exercise, identify any areas for improvement and start taking action on them so that when you decide to make your move, you will be less likely to run into any stumbling blocks such as finding out that you don't have all the skills and experience that potential employers are looking for.
2. Certifications
You don't necessarily have to go back to college to gain new skills. There are many professional certifications available for just about every type of job. Do some research on the different ones available to find out which ones will help boost your resume the most. If you have lots of experience in your field it may be less important to obtain a new certification. However, if it's been a while since you last went to school, having a certification will show that your skills are up to date. If you'd like to get into a new career field where you have little to no experience; having a professional certification will show a potential employer that not only are you serious about working in that field, but also that you have some basic skills.
3. Networking
A great way to gain new skills and network with people in the field is to attend professional networking groups, user groups etc. Not only will you gain new knowledge from various presentations, but you'll also get to know others in your field who can help you in your job search. You may even meet recruiters who are there to connect with potential candidates for positions they're trying to fill. Sites like meetup.com and LinkedIn are great places to start networking, and don't wait until you're looking for a new job to start networking.
4. Education
Keep educating yourself. The more knowledge you have, the more value you'll be able to bring to your employer. Read industry related articles/newsletters to stay up to date on the latest. Earn another college degree. With so many options for online classes, it's easy to find a program that will fit around your schedule. Or, go to a trade school and take a class. You can learn a whole new skill set in a matter of a few days. There are many different options available for additional learning depending on your needs and goals.
5. Recruiters
A great way to advance your career when you're ready to take on your next opportunity is to connect with a recruiter. There are many staffing and recruiting companies out there. Research and contact the ones that most closely match with the type of jobs you are looking for. Recruiters are always on the lookout for great candidates to match with their current job opportunities they are trying to fill.
6. Find a Mentor
If you're new to the field you'd like to build a career in, find someone who can mentor you. Someone who's currently in the career field or job role you aspire to be in. They'll be able to give you advice on who to network with, what skills you should work on and the best way to find opportunities in your field. They'll also be able to help you assess your skills and give advice on areas for improvement. You may already have someone in mind who'd be willing to help you. If not, ask on your social network if someone would be willing to help you out. Or, attend and participate in networking events where you can get to know people who may be able to mentor you.
There are many different ways to advance your career or make a move into a new career field. Connect with one of our recruiters by submitting your resume by clicking on the banner below, or visit our job board and apply for one of our currently open positions.