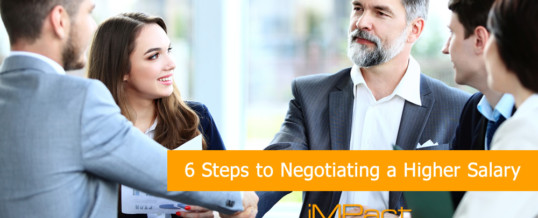 Don't leave money on the table. Here are 6 things to keep in mind when negotiating for a higher salary with your new employer.
Know your value
Before you can negotiate a salary with an employer, you'll need to determine how much you're worth. If you've held similar positions you may already have a good idea of what your salary should be. There are also numerous resources online where you can see how much others who hold similar positions are making in your area. Visit sites such as salary.com, glassdoor.com, onetonline.org and even indeed.com to research salary data. Also, talk to recruiters. They will know what people with your experience and background are worth, so use it to your advantage. Engage in a conversation with a recruiter.
Timing is Everything
After you've determined what you should get paid, the next step is to determine when to bring it up. Wait for the employer to make you an offer before you bring up compensation, unless the employer initiates the discussion regarding compensation.
Base salary request on researched data
If you're asked about salary requirements, ask the employer more about the job role and responsibilities, and respond that the salary will be based on the position and overall compensation package, and that you would like to know more before discussing salary. If you have to give a number, use a specific salary target range based on your salary research and what the employer has told you so far. This will indicate to the employer that you have done your research and know your value. Before you get your offer, determine your minimum acceptable salary. This will come in handy once you've received your offer.
Think it over
After the employer has made an initial offer, let them know you'll need a little time to think it over. You don't have to accept or reject the offer right away. This will allow you to determine your negotiation strategy based on what your offer is. You'll also be able to reply with an email and make a specific counter offer. Now that you've received an offer, you can also compare that to the minimum acceptable salary that you determined earlier in the process and determine if you'll be able to negotiate from it.
How to respond to an offer
Communicate that you are appreciative of receiving the offer and that you are enthused regarding the opportunity and the organization. If you received a low-ball offer, counter with your minimum acceptable salary. In addition to salary, other items to include in your negotiation are vacation days, paid training and professional development, flexible schedule and any other work-related items that are important to you.
Practice
Make sure to think through everything that's important to you regarding salary. Write down your main bullet points and practice what you're going to say. If you make a counter offer, there's a chance the final discussion will take place over the phone, so be well prepared. Practice makes perfect.
By taking your time, doing your research and be prepared to negotiate your salary you'll end up with a higher salary and not leaving potentially thousands of dollars on the table.
When applying for jobs through iMPact Business Group, our recruiters will assist with the salary negotiation process. Click the banner below to submit your resume, or browse our job board for all currently available positions.