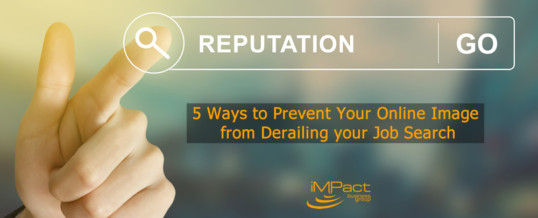 The way you present yourself online as well as the way other online sources depict you can quickly derail your job search without you even knowing it. Employers can find all kinds of information about you with a quick google search, and even the slightest bit of information that gives off a negative image of you can cause a recruiter or employer to scrap your application. The way you are represented online is largely in your control, but there's also information out there that may not be, and it would behoove you to be aware of it so you can take control of it.
Social Media
Your social media pages is the first place employers will look to get an idea of what kind of person and candidate you are, and if you're going to be a potential good fit for their organization. Make sure all of your profile images look either professional, or otherwise presentable for the kind of positions you're looking for. We've received applications where the profile picture on Facebook was sexually suggestive, people showing their middle finger, or otherwise provocative. Needless to say, those applications didn't get looked at further than that. If you have posts or photos you don't want employers to see, change the privacy settings to friends only, or hide them completely until you are no longer in job seeking mode.Share articles and other relevant content you'd like potential employers to see. Show off your great communication skills, samples of your work or other qualities related to the kind of work you want to do.
Search yourself
There are many websites out there who gather people's personal information already available from different sources online. They may contain inaccurate, outdated and non-flattering information; so, make sure you google your own name to see what comes up. You'll want to at a minimum be aware of what's out there, and if needed, reach out to any sites with inaccurate information and have it corrected or removed. There are also online reputation services that can help you remove unwanted information if needed. In worst case, you can also hire a lawyer to help you with this. But in either case, be aware of what's out there so you can address it up front, or be aware of it if it comes up in an interview.
Take control of your own online image
Since you already know that employers are going to be looking you up online, stay in control of what they'll find. If there's not a lot of information about you online, or worse, there's negative information, create your own content to show off why you're a great candidate. One of the best ways to do that is to post different kinds of content such as blog posts, videos, LinkedIn articles or in other ways showcase yourself online. Make sure your name is prominently mentioned so search engines will pick up on it. Think about what you would want a potential employer to know about you and create content around that. Not only will it show you off in a positive light, it will also push less wanted content further down the search results. Search engines put a higher relevance on more recent content.
Professional References
Cleaning up your own social media image and posting your own content to show of your skills and personality is great. Adding references from former co-workers can also be very powerful. Use LinkedIn to ask for references from people you are or have worked with in the past. This will go a long way to show off what you're like to work with, if you'll be a good fit for the corporate culture of the companies you're applying to and what an employer can expect from you.
Don't be confusing
Lastly, makes sure that your information and online presence is consistent. If you have your own website with your resume, a resume on LinkedIn or any other sites, make sure they are all the same. If a recruiter finds different dates, titles or other information on your resume, it will come across as confusing at best or dishonest at worst. Don't give employers any reason to question your integrity and honesty when it can easily be avoided by making sure you cross-reference your information for consistency.
Maintaining a positive online reputation is imperative while applying for a new job. What you post online is an extension of your resume. If you stay on top of it and use it to your advantage, it will be a great way to help you land your next job. However, not paying attention to how you present yourself online could stop your job application in its tracks.
If you'd like to connect with one of our recruiters, please browse our job board for all available opportunities or click the banner below to submit your resume for general consideration.